Aurisonic Generic Fit In-Ear Monitors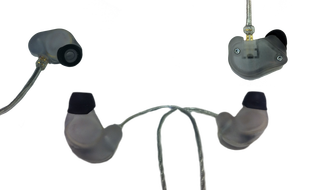 _ASG-1 Generic Fit Digital-Hybrid In-Ear Monitors™
Your IEMs lacking the BASS response you want? Do they fall out of your ears? Can't get a good seal? Want something that looks custom but fits almost everyone? The Aurisonics ASG-1 is your answer...

Check out what makes the Aurisonics ASG-1 the new choice for professional musicians world-wide.


Aurisonics, Inc.™ - "The Critical Difference" a world-wide manufacturer of in-ear products has launched our state-of-the-art Generic Fit Digital-Hybrid In-Ear Monitor™ model ASG-1 that will give you the look and performance of a custom IEM.
The ASG-1 series represents the next generation of generic fit (one size fits most) in-ear monitoring technology which far surpasses the performance capabilities of other single and multiple driver legacy designs which utilize hearing-aid technology.


The bass response is truly legendary driven by a massive 15mm custom designed dynamic driver. The driver is placed in the monitor at an optimal angle and ported for maximum performance from a single driver. Multiple drivers are not necessary due to the full range capabilities and wide-band response of the dynamic driver.

---

_
The shape and fit was engineered utilizing digital human ear anthropomorphic data to obtain a greater than 90+% fit. This allows for a one-size fits most solution that stays secure in the ear and performs better than most custom IEMs and perhaps all non-custom IEMs.

Our ASG-1 series IEMs are hand-made with care and tested in the same manner as our custom series monitors in the U.S.A. for unsurpassed quality and performance.

Specifications of the ASG-1 Generic Fit Digital-Hybrid In-Ear Monitors™

* 8Hz - 25kHz frequency response
* 32ohm +/- 10% impedance @1kHz
* Sensitivity 121dB @ 1mW
* 15mm dynamic driver
* Standard S-M-L soft silicon replaceable tips
* The look and performance of a custom IEM
* Custom tips available for enhanced performance and fit
* Rugged design for professional use