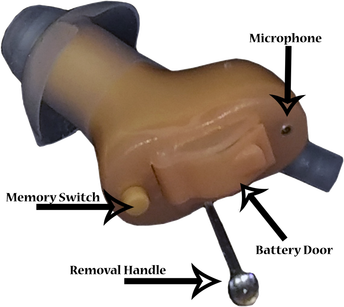 Introducing the Comfort Ear II electronic
shooters plugs. These plugs enhance the
sound of wild animals but suppress the
noise when shooting. The comfort ear II
comes with 3 channels that enhance the
audio to 6db, 12db and 16db and a fourth
channel set to be silent. The generic canal
style can be used with a silicone tip or can
be inserted into a custom pair of soft
silicone ear pieces.
---
Product includes:
* 1 year limited warranty
* Hard shell case
*Cleaning brush w/ waxpick
*(2) #10A batteries
* Choice or Beige Shells or Red and Blue shells (set)
* Faceplate only available in beige
*Custom Silicone Earpieces optional

Custom Set

Position 1 - 6db - Miliseccond /Attack 130 / Release 345
Position 2 - 12 db - Miliseccond /Attack 202 / Release 231
Position 3 - 16db - Miliseccond /Attack 210 / Release 242

Ge
Order your Impression Kit when you place your order.
Please Note:
We cannot add your order to our production cue until proper ear impressions are received.
1. If you have ear impressions that are current (<6 months old) we can utilize them to make your molds.
2. Order a Self Impression kit:
HERE
3. If you need ear impressions made please utilize our
audiologist search engine
to locate an audiologist in your area to get your ear impressions made. Once you have the ear impressions they can be
sent to us
for your molds.
Please Note:
Upon receipt of your impressions if we considered them inadequate for making ear molds we will refer you to an audiologist to have them made correctly. The audiologist will charge from $15-$50 for them.