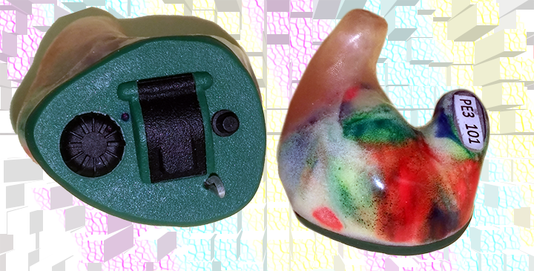 Precision Ear electronic hearing protector and enhancement for shooters allows for speech to be heard, but suppresses loud sounds. They can be ordered in a variety of colors including swirls and can be made in either a hard or soft acrylic.


Environmental Memory Settings:

Memory 1 - For outdoor out door gun range or trap shooting.
Memory 2 - More low frequency emphasis for hunting.
Memory 3 - Less low frequency for indoor gun range or birding.

Maximum outputOSPL90 is not effected by the different memories

Face Plate Colors :
Brown, Orange, Green, Black, Sky Blue, Beige.

Shell Colors:
Red, Blue, Orange, Green, Aqua, Yellow, Fuchsia, Purple, Pink, White, Beige, Brown, Black

Glitter & Swirls Optional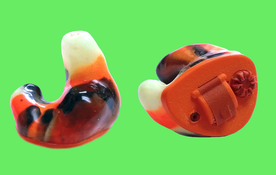 ---
Order your Impression Kit when you place your order.
Please Note:
We cannot add your order to our production cue until proper ear impressions are received.
1. If you have ear impressions that are current (<6 months old) we can utilize them to make your molds.
2. Order a Self Impression kit:
HERE
3. If you need ear impressions made please utilize our
audiologist search engine
to locate an audiologist in your area to get your ear impressions made. Once you have the ear impressions they can be
sent to us
for your molds.
Please Note:
Upon receipt of your impressions if we considered them inadequate for making ear molds we will refer you to an audiologist to have them made correctly. The audiologist will charge from $15-$50 for them.