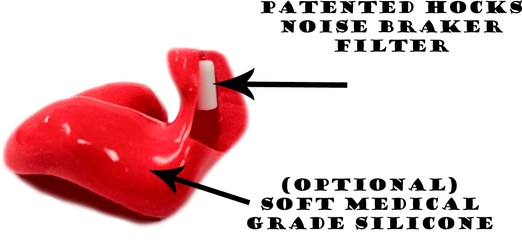 Precisions exclusive Noise Braker™ custom molded hearing protection.

Our Precision Series hearing protection products are made with the highest quality medical grade materials and are packed with exclusive features only available in our products.

20+ NRR Average Attenuation 29+dB.
Rice size filter in canal blocks any noise above 80db
Exclusive Molded Comfort Tip
Available With Optional HD Retention Cord
Solid Colors Available
Best Solution for Highest Protection and Comfort



_Noise Brakers - Shooting Plugs 20+NRR


_Custom Molded Precision Noise Braker™ Hearing Protection

The patented

Hocks Noise Braker

filters are safely imbedded in custom silicone plugs that are individually molded from impressions taken of your ear canals. The result is an incredibly comfortable fit and plugs that stay in place without pressure. Only

Hocks Noise Brakers

allow safe sounds, those below 80dB, to pass virtually unattenuated. Yet for sounds over 80dB, Hocks Noise Brakers exceeds OSHA's requirements for hearing protection, even up to 120 dB. This sound filtration gives you the competitive edge in any high noise level activity.

By blocking high decibel background noise, Hocks Noise Brakers:

Increase concentration

Heighten Awareness

Provide added safety

Hocks Noise Brakers are also adaptable for use as radio communicator ear pieces. Or they can be used to increase the effectiveness of standard radio headphone sets.

---
DOWNLOAD NOISE BRAKER BROCHURE
Are your ears
RINGING
? What if
YOU
were
DEAF
?
PROTECT
the hearing you still have...
Let's face it, no one likes to wear hearing protection. It's inconvenient, looks funny, is uncomfortable and can be expensive... Why do
YOU
need hearing protection?
In most work environments it's required. So if you have to wear it, make sure it is convenient, looks cool, is comfortable, and not too expensive...
If you are an employer
NIHL
(
Noise Induced Hearing Loss
) and workers compensation claims can cost you far more than the cost of custom hearing protection.
One of the leading causes of workers compensation claims in the US is due to hearing loss. Workers' compensation claims for hearing loss typically range from $10,000 to $25,000 per employee, but some claims have been awarded compensation as high as $150,000. Workers in industries and jurisdictions not covered by workers' compensation systems may bring legal action directly against the employer.
see more
...
At the end of 2004, the MONTHLY compensation payments to veterans with hearing loss as their major form of disability represented an annualized cost of $660 million. So how much is your hearing or your employees hearing worth...
Order your Impression Kit when you place your order.
Please Note:
We cannot add your order to our production cue until proper ear impressions are received.
1. If you have ear impressions that are current (<6 months old) we can utilize them to make your molds.
2. Order a Self Impression kit:
HERE
3. If you need ear impressions made please utilize our
audiologist search engine
to locate an audiologist in your area to get your ear impressions made. Once you have the ear impressions they can be
sent to us
for your molds.
Please Note:
Upon receipt of your impressions if we considered them inadequate for making ear molds we will refer you to an audiologist to have them made correctly. The audiologist will charge from $15-$50 for them.