Musician Plugs - Hearing Attenuation for Musicians (9dB, 15dB, 25dB)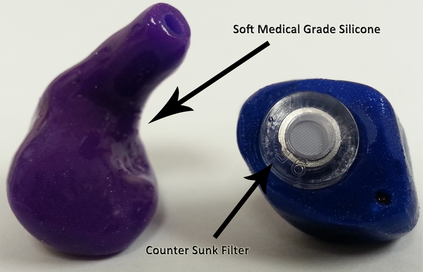 Custom Molded Precision Musician Plugs™ Hearing Protection
_

The custom fit and soft vinyl construction provide years of use. The ER-9, ER-15 and ER-25 are now used by professionals in all audio-related fields -- Live performance, sound engineering, recording, crtical listening, etc.

ER-9, ER-15 and ER-25 Musicians Earplugs* were designed for musicians and sound engineers as a necessary companion during live performance and recording. Their unique design allows each level of protection to be worn comfortably even during extended periods of high sound pressure levels. Sound is attenuated by specialized filters that provide equal levels of protection at all frequencies.

The ER-9 attenuates (reduces) sound pressure levels by 9dB across the entire sound frequency spectrum at the ear. Levels are reduced by 15dB with the ER-15 and 25dB with the ER-25. 9dB, 15dB and 25dB filters are interchangeable on the same earpiece depending on the application.
"Protect your ears from harm" When accurate listening at safe levels is critical, ER-9, ER-15 and ER-25 Musicians Earplugs help eliminate dangerous SPLs and enhance your listening experience.

Precisions Musician's Plugs Custom Molded Hearing Protection.
Our Premium Series musician's filtered hearing protection with Etymotics patented pass-through filters allow musicians the ability to hear while playing while still protecting your hearing. Our exclusive musicians filtered hearing protection are made with the highest quality medical grade materials and are packed with exclusive features only available in our products.

With the availability of multiple filter ratings use the chart below to pick the appropriate filter for your musical needs:
---
The ER-9 has reduced diaphragm stiffness for less attenuation (reduction).

Reduced attenuation (better audibility) than the ER-15 filter
For use when a small amount of protection is adequate
Good frequency response
9dB attenuation through 2 kHz

The ER-15 has a diaphragm which functions as an acoustical compliance, as well as an acoustical mass. This results in a smooth and flat attenuation (reduction).

Practically perfect frequency response
Provides the same attenuation at all frequencies
Minimum occlusion effect with deeply-sealed custom earmolds
15dB attenuation

The ER-25 has an increased diaphragm stiffness and an acoustical mass channel molded into the button for more attenuation (reduction).

Increased attenuation good frequency response
Used by drummers and others exposed to high sound levels
25dB attenuation
_
Available in 9dB, 15dB, and 25dB Filtered Attenuation
Filter Colors Available
Exclusive Comfortable Silicon Design
Available With Optional Pull Handles
Solid or Swirl Colors Available
Glitter (Optional)

Best Solution for Filtered Protection, Comfort, and Reduced Visibility

Are your ears
RINGING
? What if
YOU
were
DEAF
?
PROTECT
the hearing you still have...
Let's face it, no one likes to wear hearing protection. It's inconvenient, looks funny, is uncomfortable and can be expensive... Why do
YOU
need hearing protection?
In most work environments it's required. So if you have to wear it, make sure it is convenient, looks cool, is comfortable, and not too expensive...
If you are an employer
NIHL
(
Noise Induced Hearing Loss
) and workers compensation claims can cost you far more than the cost of custom hearing protection.
One of the leading causes of workers compensation claims in the US is due to hearing loss. Workers' compensation claims for hearing loss typically range from $10,000 to $25,000 per employee, but some claims have been awarded compensation as high as $150,000. Workers in industries and jurisdictions not covered by workers' compensation systems may bring legal action directly against the employer.
see more
...
At the end of 2004, the MONTHLY compensation payments to veterans with hearing loss as their major form of disability represented an annualized cost of $660 million. So how much is your hearing or your employees hearing worth...
Order your Impression Kit when you place your order.
Please Note:
We cannot add your order to our production cue until proper ear impressions are received.
1. If you have ear impressions that are current (<6 months old) we can utilize them to make your molds.
2. Order a Self Impression kit:
HERE
3. If you need ear impressions made please utilize our
audiologist search engine
to locate an audiologist in your area to get your ear impressions made. Once you have the ear impressions they can be
sent to us
for your molds.
Please Note:
Upon receipt of your impressions if we considered them inadequate for making ear molds we will refer you to an audiologist to have them made correctly. The audiologist will charge from $15-$50 for them.